Coming  to YORK on Thursday 24th October
THE CRESCENT CABARET
Sponsored by Pyramid Gallery
ALL SEATED TICKETS HAVE BEEN SOLD or RESERVED
there are likely to be a few resales – SO…. please text 078 0502 9254 to go on the reserve list
or, if you don't mind standing there will be some tickets sold on the door at £8 each
If you are feeling left out then please leave your name (send text to number above) and we will give you early notice about the next show in about 6 to 7 months time
Doors open 6.45pm Show starts 7.30pm
This is a charity event for the benefit of St. Leonard's Hospice
This Premier York show is to be known as THE CRESCENT CABARET and is conceived, written and presented by the team that is responsible for Cabaret Saltaire Hosted and compered by SQUINTY McGINTY, agent to the stars. A bizarre concoction of 'turns' that are amusing, surprising or just crazy, that will have you 'splitting your sides' as you try to resist laughing at their irreverent take on the traditional working men's club. In Saltaire, this is a show that sells out very quickly. After a run of over 28 presentations at the Caroline Club in Saltaire, the new show for York will include a selection of some of the favourite acts, including an introduction to the talented and skilfully 'flawed' club favourite, Squinty's co-host, BILLY BUTTON! Not forgetting the main act, from Sheffield, the multi talented MAYNARD FLIP FLAP  HERE
And Hattie Hatstar!  I am really looking forward to seeing her turn….   Check out Hattie's website HERE
Why are we doing this?
In about 2013/14 Fiona came to work at Pyramid Gallery. Soon she took on the role as Manager. One day we might formalise this position, but for the moment, as long as Fi wants to manage the business, then I will just do as I am asked! Fi talked often about her position as events manager of 'Woodend' in Scarborough and a place she used to frequent called Eat Me Cafe and run by two great guys, Martyn Hyde & Stephen Dinardo.
They collected artwork by a remarkable man that we know as actor STEVE HUISON (one of the 4 main characters in The Full Monty and on TV as Corrie's Eddy Windass). Fi wanted me to meet Steve and I was happy to do as I was told. I went to his 'Shedio' in Robin Hood's Bay and took this picture and then agreed to putting on a show of his work.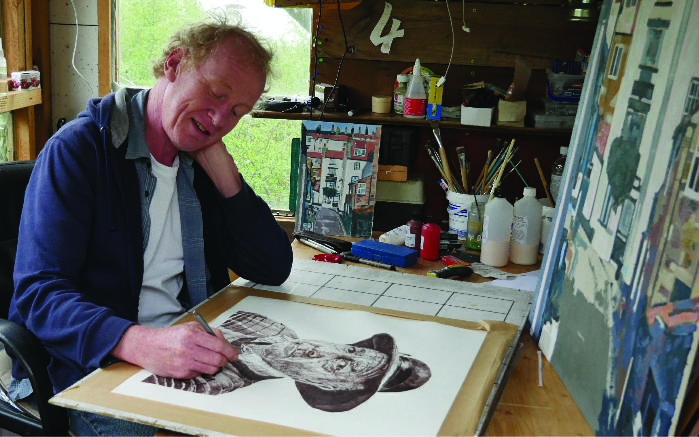 Steve actually prefers his portrait to have a bit of attitude… and he runs courses to teach you how to draw a portrait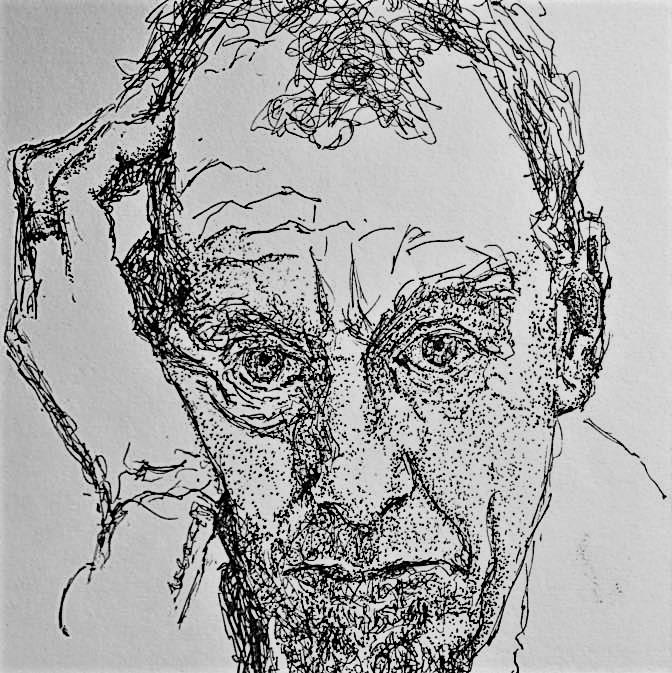 But I now know that there is a totally different version of STEVE HUISON known to the many fans of Cabaret Saltaire as SQUINTY McGINTY
flawed and irreverent, but charmingly funny, he has been the anchor to this cabaret for 7 years. And now, at huge expense and enormous risk to my wallet, I want to share this unique, quirky and sometimes cringingly hilarious happening with the citizens of York.
All the main acts are professional, and two are club groups. All are paid a modest fee. It is expensive to stage and Pyramid Gallery is underwriting the show if it makes a loss! This really is for fun, but also for charity. Proceeds from the raffle will go to St Leonard's Hospice
The acts are well rehearsed by the individuals, but the whole presentation is done on the fly. No rehearsal. Squinty McGinty is unscripted and it is amazing what he can get away with! Spontaneity and calamities are all part of the fun.
The show will finish with Rock&Roll dancing with my favourite band …. York's own
Please buy a ticket! I need to sell 135 to cover costs
Terry  x
Sunday 13 October…… THANK YOU EVERYONE for your amazing support and enthusiasm for this event – I am very excited to be part of the promotion and organisation of the cabaret and feel privileged that the show's creator and host STEVE HUISON has entrusted Pyramid Gallery to promote the show – this whole thing is not without some risk to his reputation! But the incredible response has enabled the show to go ahead with a huge amount of enthusiasm on the part of the team that are behind him and also the guest acts which include the very talented MAYNARD FLIPFLIP and HATTIE HATSTAR